If you're unfamiliar with MasterClass, it is an online learning platform that teaches you different skills and techniques. Best of all, on Masterclass, you get taught by not just any old teachers, but by the best and most well-known individuals at their craft.
This online education platform offers recorded classes taught by (celebrity) experts in a wide range of fields. Moreover, students enrolled in the program receive a class workbook, interactive assignments, and community service projects.
Among the various classes they offer are courses on cooking by Gordon Ramsay, basketball by Steph Curry, poker by Daniel Negranu, acting by Samuel L. Jackson, and much more.
You may wonder how MasterClass gets these big names to teach on their platform. Read on for more…
Here's How MasterClass Gets Celebrities:
MasterClass offers celebrities a significant amount of money to teach a course, which is the main method they use to get celebrities. They are further persuaded to participate by being given a good amount of creative control. They have the flexibility to teach in a style that they enjoy.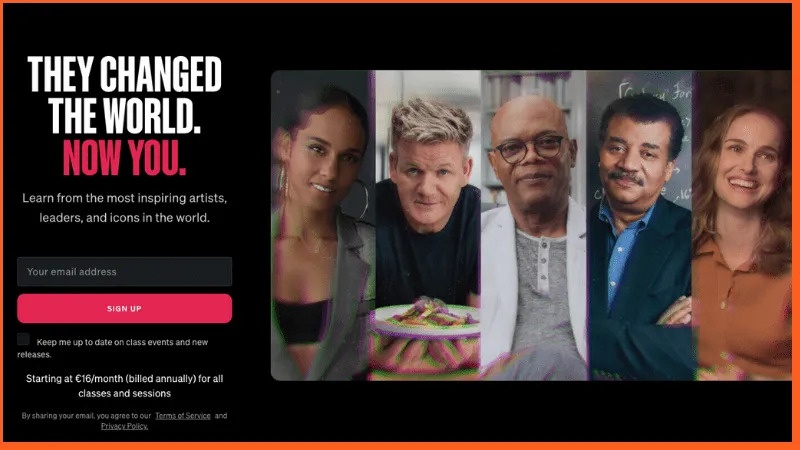 It can also be noted that now that MasterClass has grown into a more well-known brand, celebrities are more willing to teach. It is cool to learn from icons in an industry, but it is also cool to be seen as the celebrity willing to teach your own techniques. It is an excellent way for the celebrity teachers to build their personal brands and even to allow fans to learn more about them.
How Much Does MasterClass Pay Instructors?
Although these deals are not openly discussed, there are reports that the instructors receive around $100,000 up-front before they do any work, along with 30% of the revenue generated from their classes.
In interviews, the CEO of MasterClass, David Rogier, has mentioned that their teachers will often do these classes as legacy work. Similar to how many famous people will write a book, these courses are meant to have a similar effect. Leave a lasting impact because of their unique strategies.
Exact financial deals are not available to the public. It is a good thing for both MasterClass and the instructors, as it can really hurt negotiations for either side.
In any case, the budgets available for individual courses on MasterClass are incredibly high. Aside from the high budgets allocated to celebrity instructors, there are also high amounts invested in production. It turns out to be worth it for MasterClass as their many users love the platform and their courses.
Who Owns MasterClass?
In 2014 (under the name Yanka Industries), MasterClass was founded by Aaron Rasmussen (CTO) and David Rogier (CEO). Rasmussen exited the company in 2017, and Rogier is now the sole remaining founder and who we assume is the majority owner.
MasterClass is privately held and recently received $225 million in a Series F funding round. This brings the companies valuation to $2.75 billion, according to CNBC.
The idea for MasterClass was born after months of extensive research and interviews with users. Rogier's grandmother, a Jewish refugee who became a pediatrician after escaping the Nazis (despite being rejected by over 30 medical schools), is the inspiration for MasterClass. As a child, Rogier's mother frequently told him that "you cannot be robbed of your education." All these influences went into creating MasterClass.
The MasterClass website went live in 2015, following nearly two years of pitching, filming, and website development. Dustin Hoffman taught a lesson on acting in the company's first-ever class (the course was removed in 2018 due to allegations of sexual misconduct against Hoffman).
Right from the beginning, the platform was a big hit. Over 30,000 MasterClass courses were sold in the first four months after its launch to students from around the world.
In addition to adding a variety of course content, the company gained many users. Students have been documented between as young as 8 to as old as 104 years old! That is quite the age gap in customers.
MasterClass currently has over 80 courses on its platform, which serves users worldwide.
Sources:
https://www.hollywoodreporter.com/lifestyle/lifestyle-news/what-masterclass-online-courses-pay-lure-hollywood-stars-as-teachers-993159/
https://medium.com/brand-origins/how-did-masterclass-start-a5cffd7644d9