Have you been thinking of signing up for MasterClass? Are you having second thoughts about it or considering a different online learning platform, like LinkedIn Learning?
Before you make a decision, here are two quick things to think about:
First, Masterclass is an excellent online learning platform with high-quality courses taught by a celebrity faculty.
Second, in choosing MasterClass, you're giving yourself (or someone else) access to courses that cater to all skill levels.
If these two points have you wanting to learn more, the rest of this article will definitely interest you!
Let's have a look at some unique questions you might have about MasterClass…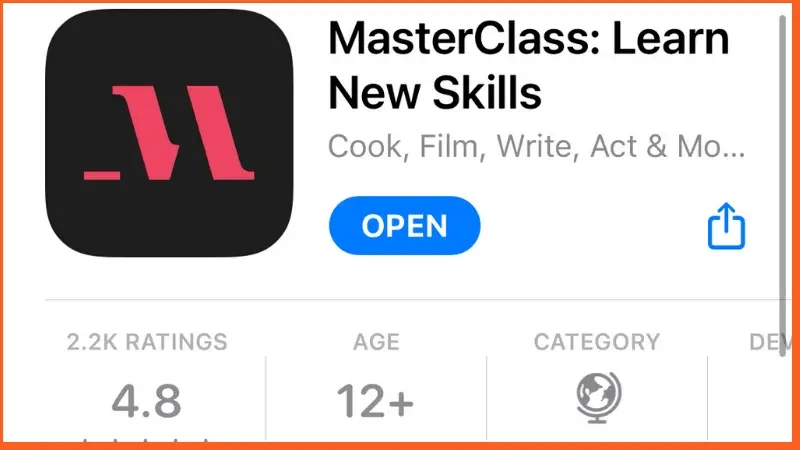 Is MasterClass for Beginners?
I know a few people who have been intimidated by the thought of using an online learning platform. I get it.
Do you actually get good guidance? What if I have questions, or is it too advanced for me?
Whenever I'm learning something new, presentation matters a lot. It can be intimidating or welcoming. 
When you look at other online learning platforms like LinkedIn Learning or Udemy, you can get course titles like this:
"NAP Citations and Online Directory Crash Course"
"XMS Site Map Creation 101"
"Equity Determination for Novice Realtors and Investors"
As a beginner, I have no idea what any of that means.
Indeed, the idea behind specifying the course offerings in these platforms is that it offers more seasoned learners to pick a course they like and sign up for it.
Unfortunately, though, this can scare those just getting started. We need things laid out in a simple manner.
This is where MasterClass shines!
When you look at the course categories, they're about as general and beginner-friendly as you can get.
For example, to find a cooking course on MasterClass, there's a section for it – the Cooking section!
It doesn't get any more straightforward than that. So, to answer the question above, yes, MasterClass is definitely for beginners.
Is MasterClass Credible?
MasterClass has always been a credible online learning platform for many people. The courses are more directed to the lifestyle and art sector and less to the tech space, but it is definitely still a credible program.
What separates MasterClass from competing online learning businesses is that its instructors are some of the most well-known experts in the field they teach in.
Other platforms enable anyone who claims they have expertise in a topic to share it. This is great, but unfortunately also allows for some subpar courses to be created by subpar "experts."
MasterClass has actually known specialists teach their methods! How awesome is that!
Before MasterClass, if someone were to have told you that there was a place where you could get online tutorials for how to shoot three's from Stephen Curry and then also learn how to perfectly sauteed vegetables from Gordon Ramsey, you would say they were absolutely crazy!
Does MasterClass Give Certificates?
Currently, MasterClass does not give certificates showing that you completed a course.
While the courses are high quality and have high production quality, I am unsure if certificates would be a great addition to the platform. MasterClass is not meant to replace a traditional accredited university.
The programs are simply meant to help you get better in whatever it is you are interested in and to have an expert in the field teach you.
Perhaps a certificate would be a nice touch, however, it is debatable if it would have any real-world value.
The real benefit of MasterClass is using the skills you can learn with each course in your daily life.
Recommended Reading: Does learning ever end?
Does MasterClass Have Art Classes?
MasterClass has a wide array of art classes.
Still, art has a vast meaning.
Painting, graphic design, writing, cooking, and even sports and creating music can technically all be defined as art forms. So, depending on what type of art you are looking MasterClass may just have some great courses for you.
MasterClass has grouped art classes alongside courses in entertainment. The Art and Entertainment section has courses in:
Storytelling
Graphic design
Spray-painting & abstract art
photography
(Sculpture) art & creativity
Writing
Filmmaking
And many, many more!
Who Is Behind MasterClass?
MasterClass is the brainchild of David Rogier and Aaron Rasmussen. MasterClass began as a small online learning platform with three members in its faculty.
One of its very first teachers was Kevin Spacey.
Since its founding in 2015, the star-studded faculty has grown to include many other people you've probably seen or heard of.
Why did they choose celebrities and famous experts?
The founders envisioned an online learning platform staffed by experts and experts only. And, of course, nothing screams expertise in a field better than notoriety and celebrity status. It is very clear that not just anyone will have a course available on MasterClass.
Is MasterClass a Good Gift?
A MasterClass membership is a fantastic gift idea!
If you know someone interested in a specific topic, giving the gift of further exploring that topic is perfect. Course quality and production value are also incredibly high when it comes to MasterClass.
You definitely won't have to worry about gifting something that ends up being lower value, and one of the best parts is that new courses are constantly being added.
This allows the person you gift a membership, to explore various areas that interest them.
A MasterClass membership is also great for someone who is a fan of a teacher on the platform. So if you are debating what to give a Natalie Portman or Wolfgang Puck fan, MasterClass could be a great option.
With so many big names on the platform, you are likely a fan of more than just one teacher.
In general, MasterClass is a great gift idea for anybody looking for a skill or hobby upgrade.
Recommended Reading: Can learning be a hobby?
Make Online Learning Unforgettable With MasterClass
Easy.
Fun.
And, high in star-struck potential.
MasterClass can provide you with more than a rewarding learning experience. It gets you hooked in more ways than one.
From its beginner-friendly content and courses to its star-studded faculty, MasterClass is your way to learning and mastery.
Interested in other online learning platforms?
These other learning platforms may also be interesting to check out:
Sources:
https://masterclasshelp.zendesk.com/hc/en-us/articles/115013086387-Will-I-receive-a-certificate-of-completion-when-I-finish-a-class-#:~:text=Currently%2C%20we%20don't%20have,site%20to%20continue%20your%20studies