Coursera is currently one of the largest and most popular open course providers online. The company prides itself on being a global learning platform accessible to anyone, anywhere, who's got an internet connection.
They've partnered up with universities and educational institutions to further their cause and continue to reinforce their brand. Looking to sign up but have a few questions in mind? Read on for everything you need to know!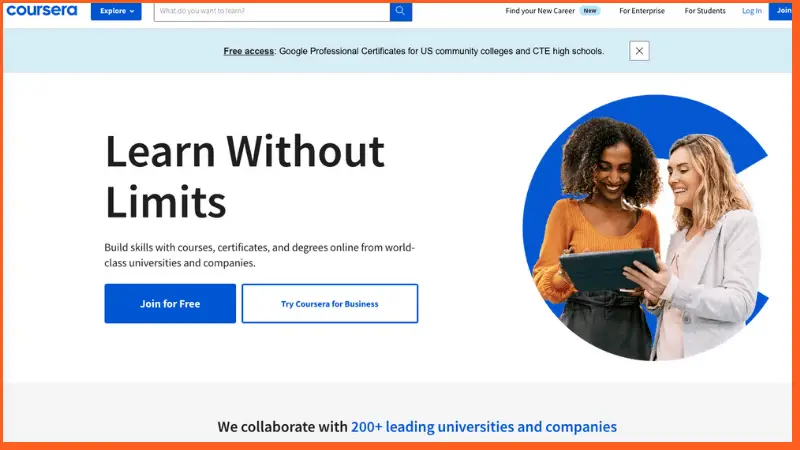 Do Coursera Courses Have a Deadline?
Coursera has "deadlines," but they are not actually considered hard deadlines considering how flexible the terms of the courses can be.
They once had hard deadlines way back when they started operating, from around 2012 to 2016, but since then, they've changed how they've allowed students to go about studying and taking exams.
It's now truly a self-paced learning platform.
At most, the deadlines mentioned in the courses are merely suggestions or what you may consider soft deadlines.
There's definitely an indicated time for which you have to accomplish the tasks at hand, namely quizzes, peer-to-peer reviews, assignments, and so on. Still, you will be given an ample amount of time to go about them efficiently.
It's pretty much impossible to fail Coursera courses nowadays.
If you miss two deadlines, then they may ask you to jump to another session. You can even reset your sessions if you think you are lagging too far behind.
Resetting your sessions won't affect your grades at all.
As a learner on Coursera, you can truly finish your sessions at your own pace and on your own time. This is part of the reason why learners appreciate it.
Recommended Reading: Udacity – Answers
Can I Finish a Coursera Course Early?
You can most definitely finish a Coursera course early! It's a self-paced course, so that means that you have complete control over when you will finish it. As mentioned above, the deadline indicated by Coursera for the courses is just a soft deadline.
If you're given a chance to finish it a little bit later than what's indicated, then it goes both ways. You're also welcome to complete a course earlier than what's allotted.
A 10-month course can be accomplished within 3 months if you put in extra time for it.
What about the certificate, you ask?
Well, good news. Certificates are provided immediately after finishing a course, even ahead of time, granted there aren't any peer-graded assignments involved in it.
If there are peer-graded assignments, you'll have to wait for your classmates to grade yours before getting the certificate.
Remember, though, that the goal here is to learn something valuable from the course and not just for the sake of a certificate. This is why it would be suspicious if someone finished a course way too early.
Certificates are useless if you haven't learned anything from the course.
Recommended Reading: How books make us better!
Do Coursera Grades Matter?
In a sense, Coursera grades are not the most important thing and do not matter. Your certificate will not show if you got only, say, 70% on specific quizzes. But, it can include your grade if you want it to, especially if you got 100%. That would be a nice badge of honor.
Coursera also cannot provide anyone with your grades or any documentation of your progress, so no one can know about it even if they want to. It all boils down to the course certificate.
However, your course grades should matter largely to help you track your own learning progress. Take it as a personal guide to see if you're really learning or if the course is effective.
Realize that the whole point of taking Coursera courses is to grow your skills and knowledge on different topics that interest you. While there's no need to stress over what grades you get on the platform, it is still worth striving for great notes.
This shows that you understand the material and can apply the material in practice.
Recommended Read: How to improve your note-taking skills!
How Old Do You Have To Be for Coursera?
Coursera allows enrollees that are 13 years or older. However, there are higher age requirements for learners from the European Economic Area (EEA).
Here are the ages of consent:
A learner should be at least 16 years old in:
Belgium
Bulgaria
Croatia
Cyprus
Estonia
France
Germany
Greece
Hungary
Italy
Latvia
Lithuania
Luxembourg
Malta
Netherlands
Portugal
Romania
Slovakia
Slovenia
A learner should be at least 15 years old in:
A learner should be at least 14 years old in:
And, a learner should be at least 13 years old in:
Czech Republic
Denmark
Ireland
Poland
Spain
Sweden
UK
You may be wondering why there are all of these age restrictions if it's for education anyway? Well, it's for the protection of the learners themselves and the security of minors. The courses offered must be well-suited and age-appropriate for their education.
Recommended Reading: Can you learn without college?
Are Coursera Courses Accredited?
Coursera has several accredited courses available on its platform.
Accredited courses are not only highly regarded but are also recognized by potential employers. When it comes to the courses within the Coursera platform, it can get confusing whether these courses are accredited or not.
What we can say is that Coursera itself is not accredited by CHEA (or the Council for Higher Education Accreditation), but they have courses within the platform that are. In fact, they have quite a lot.
The ambiguity stems from the fact that there are a lot of courses within the platform you can choose from.
The courses meant for self-development outnumber the ones that are accredited by universities.
Take note, however, that Coursera offers many courses that are accredited by universities all around the world. You can bet that these courses are also recognized by employers globally.
Not only that, but some universities even give credit for completing Coursera courses. This means you can put these credits towards a degree which gives Coursera even more credibility.
Just always read the information provided before you enroll in a course and verify it with your college or university institution to avoid any misunderstandings.
As of writing, Coursera offers 3000+ courses across 48 countries and is partnered with over 200 institutions.
Recommended Reading: Can you learn without a teacher?
Can You Take Multiple Courses on Coursera?
Yes. Given that it's a self-paced/self-learning platform, you are allowed to take multiple courses simultaneously.
The fact that Coursera allows for multiple sessions at the same time can help you out if you want to work on multiple courses simultaneously.
While it is allowed, does it mean that you should do this?
A lot of Coursera vets actually do not recommend enrolling in multiple courses at the same time because A) it can get overwhelming, B) you won't be able to absorb every piece of learning efficiently, and C) because of the former reason, you'll essentially be only wasting your time.
So, take your time instead and solidify your knowledge on the courses that you aim to accomplish. If you notice that you can easily handle one course's workload, you can consider adding another course.
Recommended Reading: Is being self taught good?
Do Coursera Courses Look Good on a Resume?
Yes, Coursera courses can look good on your resume, and yes, you can put them on your resume. However, it is great to have various supporting items on your resume, such as work experience, relevant projects and hobbies, and other accredited education.
Having online Coursera courses on your resume will likely not be enough to help you land a high-ranking position at a company.
Adding relevant Coursera courses to your resume will definitely not be seen as a negative, though. At the very least, it will show the employer that you had the initiative to improve your knowledge about specific topics. It also shows that you are very self-motivated and strive for self-improvement.
This is especially true if the Coursera course(s) you've taken fits the job you're applying for. It could add to your credibility and increase your chances of landing the job.
Does Coursera Give Certificates?
Yes. As a matter of fact, Coursera gives two primary types of certificates that you can use as proof that you've finished specific courses.
Depending on the course you've completed, you'll either get a course certificate or a specialization certificate.
Specialization certifications are for micro-credentials offered by Coursera and consist of a series of courses instead of just one.
You will not get a certificate, though, if you don't pay for the course. And yes, you can go through all the materials of the course without paying. Coursera has essentially made its courses available for free. Still, you won't get a certificate for it once you've finished unless you pay.
You also won't have access to any of your grades.
You can also take online degrees through the platform. They even offer professional certificates in specific fields and allow learners to earn master's degree credits through MasterTracks.
Recommended Reading: Can you learn to have a photographic memory?
Are Coursera Certificates Worth It?
Yes, they certainly are worth it. A lot of former Coursera learners agree and attest to the fact that their Coursera courses have done a lot for their careers.
Just the fact that some courses on the platform can be turned into an actual university degree or that you can accomplish your master's degree through the MasterTrack courses gives a lot of credibility to the certifications.
Other great platforms such as Udemy or Skillshare can have some fantastic courses as well. Still, when it comes to accreditation, Coursera stands above them.
The fees might turn someone away, but if you really want to accomplish something meaningful in the form of MOOCs, then better try Coursera than any other platform.
Are Coursera Guided Projects Good?
Coursera guided projects are good, depending on what your goals are.
Some of the courses in Coursera are perfect for self-improvement or development. Some of them are aimed towards a university degree or a master's degree.
Some of them are aimed towards landing a suitable, if not perfect, job for you.
If you are looking to enter a specific field, industry, or job, Coursera guided projects should be a great fit to add to your credentials.
They are perfect to showcase to your potential employers that you have practical knowledge on a specific subject.
Wrapping Up
You might already have gotten a sense of the fact that Coursera is a very organized learning platform. It can open up a world of possibilities for you if you know how to take advantage of it.
They have great partners worldwide when it comes to learning institutions and are continuing to expand. They are up to date and have a vast catalog of courses that you may choose from to suit your educational needs.
Coursera offers a chance at education for everyone, and you should take advantage of it too!
Sources:
https://www.trustradius.com/products/coursera/reviews?qs=pros-and-cons
https://www.coursera.support/s/question/0D51U00003BlUrvSAF/finishing-a-specialization-ahead-of-time?language=en_US
https://www.coursera.support/s/article/209818923-Age-restrictions?language=en_US
https://www.classcentral.com/help/how-earn-certificate-coursera
https://levelup.gitconnected.com/is-coursera-guided-project-worth-it-589a7669f62f