Are you thinking of switching to a career in tech? If so, a Nanodegree in a tech-related field might be for you.
Udacity is an online learning platform that offers 4 to 12-month courses in many tech-related and other currently trendy fields.
Udacity has plenty of courses you could think of in tech, from data analytics to deep learning. While you may have given the platform some thought already, you may also have a few questions.
I've compiled 4 commonly asked questions about Udacity's Nanodegrees. So, if you want to learn more, sit back, sip your coffee, and enjoy.
Here are 4 critical things you need to know about Udacity and its Nanodegrees!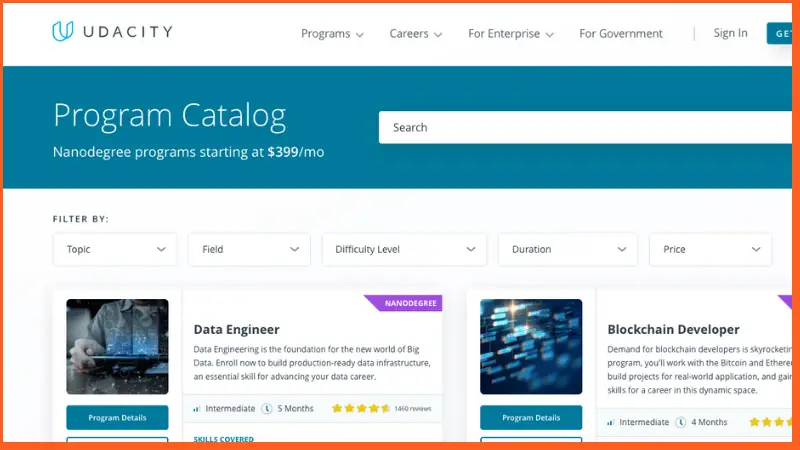 How Good Are Udacity Nanodegrees?
A short-term course worth its salt needs to have four things:
A relevant curriculum
Flexibility
Employment potential
Scalability
Many of Udacitys Nanodegrees have all of the elements mentioned above, working with the likes of companies like Google, Mailchimp, Facebook, and AT&T.
The curriculum is designed for any learner regardless of skill level. So, if computer language sounds like Old Latin to you, you don't have to worry. The curriculum for each course has been tailored to cater to all learners.
On top of that, Udacity Nanodegrees boast self-paced learning. There are no chalkboards or class schedules here. All you need is a bit of time, your device, and you're good to go.
As I mentioned above, they work with some of the biggest companies around today (think, Amazon, IBM, and Google), which means they have high-quality standards for their courses. The production value of all the courses is great. You will typically have a great experience going through the various classes. This is not always the case on different learning platforms where anyone can teach.
Udacity Nanodegrees also cater to everyone looking to break into the tech industry. So, if you want to work with computers, big data, or AI, Udacity has a course for you.
However, it is worth noting that you should research the course you are interested in. The tech industry and most of the fields Udacity offers Nanodegrees in, are fast-evolving.
What might have been relevant just a year or even only half a year ago may no longer be industry standards. Udacity creates great courses but does not constantly update all of them.
This means it's up to you to still check that everything is current before making the investment in a Udacity Nanodegree.
Recommended Reading: Udacity – Answers to know!
Can I Pause a Udacity Nanodegree?
Unfortunately, the answer is "no."
To date, there's no way for you to pause your studies with Udacity. Udacity is a bit like a top-up program. In other words, you earn credentials on top of others you may already have, like your degree or other certifications.
As a credential program, a Udacity Nanodegree is offered online. By signing up, you complete a certain number of projects within a certain time frame and earn credentials for doing so.
If somehow life gets in the way and you can't continue your credential program, you can cancel your Udacity membership.
Recommended Reading: Is self learning easy?
Does a Udacity Nanodegree Help You?
A Udacity Nanodegree can help anyone interested in growing their skills in tech or the other fields they offer courses in.
Nanodegrees provide self-learners with a great way to improve in their field of interest. Their classes are typically high-value. As long as you are not already a specialist on the topic, they will be very helpful in growing your expertise.
I think Udacity is great for someone looking for a career change. You can get an excellent overview of the career you are looking to transition to and gain practical skills depending on the course.
There are plenty of Nanodegrees that have you create something alongside the course. So you get the added benefit of learning while doing and creating something that you can add to your portfolio or resume.
What's helpful about Udacity Nanodegrees is where they get their resources. Udacity has partnered with large tech companies like:
Google
Facebook
AT&T
GitHub
SalesForce
And, the list of industry partners and resources continues to grow. Sign up for a course, and you'll gain inside access to skills that are relevant in today's tech industry.
Recommended Reading: Udemy – Answers to know!
Are Udacity Nanodegrees Worth It?
Udacity Nanodegrees are worth it, depending on your personal situation. If there is a specific course on the platform that covers a topic you are interested in, it will definitely be worth it. If you already have some experience in your field of choice and want to expand your skills, there may be better options out there for you.
Udacity's Nanodegrees are not the most affordable courses when it comes to learning platforms. Still, the production quality along with partnerships the platform has allows them to demand this price.
It is also important to realize that many college courses that cost way more usually do not have classes on these newer topics as Udacity does.
Online, there are always ways to find something cheaper or even for free. Still, the ease of use and how information is laid out clearly for you are worth the price for the right person.
You gain access to various courses in tech. You'll also have access to newer tech material like machine learning, deep learning, and digital marketing.
Aside from the skills you'll pick up, you'll also be part of a growing community that supports learners towards career success in the tech industry.
So it could be that a Udacity Nanodegree is precisely the right thing for you. Check out some of the free courses they have available, or start a free trial to see if they have some courses that would be relevant for you.
Recommended Reading: Masterclass – Answers to know!
Are Udacity Nanodegrees Worth It for Finding a Job?
Having a Udacity Nanodegree can definitely help you with finding a job. It just might be in a different way than you initially thought. Completing job-relevant Nanodegrees will allow you to grow your skills and complete various tech-related tasks.
You can then take these skills and grow a portfolio to show off to different employers while applying for a job. You can also use these skills to start freelancing and gain more experience. As you gain experience and grow your portfolio, you will become more appealing to different employers.
So a Udacity Nanodegree by itself may not directly lead to a job, but it can be that first step to one or to a new career.
That's not all, though. Udacity offers members and graduates career support as part of its goal to help graduates land jobs. How great is that?!
Recommended Reading: Skillshare – Answers to know!
Bolster Your Tech Skills With Udacity
Udacity's Nanodegrees can help you unlock the data analyst or deep learning specialist in you. These short-term 4 to 12-month courses can even help you become a better digital marketer.
With Udacity, your skill development can definitely head for an upward trend!
Remember to do more research regarding the specific courses Udacity offers and make sure it is still relevant. If everything checks out, start with a free trial and continue growing your skills!
Recommended Reading: LinkedIn Learning – Answers to know!
Sources:
https://www.udacity.com/blog/2016/07/nanodegree-101.html
https://udacity.zendesk.com/hc/en-us/community/posts/360076071331-Can-I-pause-my-Nanodegree-Program-