When it comes to self learning, Udacity is a service that people often mention. While you may know what program you are interested in and want to start right away, learning more about the platform's ins and outs can help you make a better decision. 
That way, you can decide if it's the service for you and maximize your usage.
Here are the things you should know: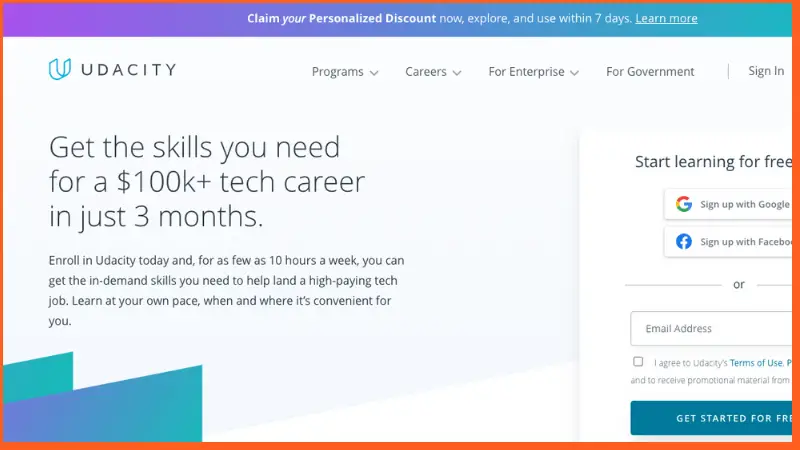 Is Udacity Self-Paced?
Most of Udacity's courses are self-paced, including its Nanodegrees. So if you're big into self-learning, you'll enjoy this model. Whether you want to take a class at 4 A.M. or 6 P.M., you can!
It may be a con for some, though. If you prefer the rigid deadlines of traditional classes, you might not like it as much.
Recommended Reading: Is self learning hard?
Does Udacity Have an App?
Udacity currently does not have an app. However, their platform is mobile and tablet friendly, meaning you can somewhat still take your learning on the go.
Udacity once had an app. After starting its operations in 2011, it decided to move to the mobile space four years later.
However, operating both their online system and their app created challenges. They were unable to reflect changes on both simultaneously.
As a result, they decided that overhauling the app was too costly and would not have the returns they were expecting. They announced that they were closing down the app in 2019. Since then, they have shown no signs of creating a new one. 
Although I personally would not use the app, I understand that it could be beneficial for some. Most learning platforms have an app even if it offers fewer features than visiting the website. 
Hopefully, Udacity will bring back an app in the future.
Recommended Reading: LinkedIn Learning – Answers to know!
Why is Udacity Expensive?
Udacity courses are some of the most expensive, especially if you opt to take the nanodegrees. Nanodegrees are sort of like mini college degrees or certifications that last for around 3-4 months. Each month you take the course is about $400 using a pay-as-you-go model.
You can also opt to pay for 3 months access to save money, though this costs over $1000 for most courses. The time period and price will vary depending on the class.
I don't recommend this for Udacity beginners since you don't know how long you'll take to finish the course. You could finish it in a month, and then other months you paid for is money down the drain.
So why is it so expensive, you might ask? Well, Udacity partners with numerous well-recognized organizations and companies such as Mercedes, Google, Starbucks, and Mailchimp, to name a few. Because of these partnerships, the quality and product value of their courses is very high. This contrasts with another great learning platform like Udemy's, where although the courses can be excellent, production value can be very hit or miss. You'll also get a coach to help review your projects and give feedback, which is not something most course platforms like this offer.
Recommended Reading: Skillshare – Important answers to know!
What is Udacity Financial Support?
Udacity offers financial support on any course you like. The discount can vary, and some even award free Nanodegree courses. You'll just have to fill in an application.
On their Scholarship page, you'll select one of their programs and apply. The process for each will be different depending on the scholarship.
For example, Bertelsmann offers a scholarship for 15,000 students. These students will take a course, and top performers will receive a full Nanodegree scholarship.
You can find out more about these Udacity scholarship opportunities here: www.udacity.com/scholarships 
Udacity also runs various discounts throughout the year. If you sign up to the platform, even for free courses, you end up on their email list. They send out special promotional offers to their email list, which allows you to get some good deals.
Udacity also participates in various deal days such as Black Friday or Cyber Monday, which are great times to get a deal on the platform. 
Recommended Reading: Masterclass – Answers to know!
Is a Udacity Certificate Valuable?
One thing to note is that Udacity's certificates aren't accredited. Despite that, they can be valuable. Since the company partners with so many large companies, it is something they support.
Still, you have to keep in mind that Udacity courses and certificates are as valuable as you make them. There are some excellent courses on the platform that can offer a lot of value if you take and apply the material.
There are also, however, some outdated courses on the platform. These outdated courses can still provide some value to beginners to a subject, but with some research, you will usually find better options out there. 
Also, a certificate from Udacity alone is likely not going to be enough to get you a job. It can definitely help grow your skills in a subject, but developing a portfolio and gaining relevant experience will do more to move the needle professionally. 
Recommended Reading: Udemy – Answers to know!
Are Udacity Certificates Worth It?
If you're looking to learn a new skill, Udacity is a good option. Many have testified to getting courses that helped them land their dream jobs or careers in industries they're interested in. It allows you to diversify your skills or expand them.
Now is it worth it? This answer varies depending on the situation you are in. If you enter with the mindset of growing your skills (especially in tech fields), you will find some courses that can help you. 
I will still encourage you to research and see that the course you are interested in is relevant and up to date before purchasing anything.
The courses are definitely great when it comes to production value. Still, some of them are not updated frequently enough with the quickly evolving technological world of today. 
Our suggestion is to try out the free trial Udacity commonly offers or to check out some of their free courses. Then you can personally see how much value you can get from the platform without making a financial commitment. 
Here's a link to all of the free courses Udacity currently has on its platform – www.udacity.com/courses/all?price=Free
Recommended Reading: Can you learn without college?