We absolutely love Masterclass!
It has a fantastic set of famous teachers who reached the highest levels in their professions. You get access to all courses with just one subscription, which is excellent when you have various interests. There are consistently new courses added to the platform, so there are always some cool new things to learn.
But then, if you are passionate about learning about a single topic, like writing, is Masterclass then still worth it?
Find out below…
Here's why Masterclass is worth it for Writers:
Masterclass is absolutely worth it for an aspiring writer because there are many prolific writers on the platform who share their techniques, views, and knowledge on all aspects of writing. No matter your skill level, you can pick up a thing or two from the various classes available.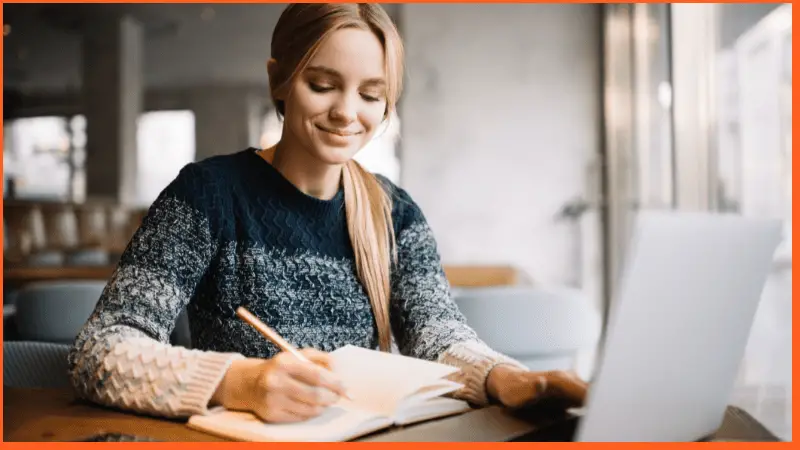 Masterclass is most known for its celebrity cast of instructors. They have a wide range of famous personalities teaching what they are best known for.
Their range of writing teachers is then, of course, no different. They are writers who have sold millions of copies of their works and reached the pinnacles of success.
However, just because someone is highly successful doesn't mean that they are necessarily a good teacher.
Thankfully Masterclass organizes its courses in a way that you can always take some tips and tricks from all of their courses. Each writer and instructor on the platform has their own unique strategies and techniques, and with a subscription, you automatically have access to all of them.
This allows you to learn writing skills in your preferred genre or hone different writing skills applicable to general types. The variety of lessons you can learn from Masterclass enable you to incorporate various writing techniques from different instructors.
Recommended Reading: Can you learn without college?
Can Masterclass Actually Teach You to Be a Writer?
Masterclass is a great place to help you become a better writer, but it alone won't teach you to be a writer. The main thing that will make you a writer is actually writing. Practicing the skill along with reading what great writers create will help you master the craft.
Masterclass is still definitely a great place to learn more about the art.
The lessons on the platform are in-depth and have plenty of tools you need to succeed. Whether you're looking to become a science-fiction writer or a beloved children's book author, Masterclass has a course for you.
A benefit of Masterclass is that once you purchase a year's subscription, you have access to all the courses on the platform. This means you aren't limited to just one teachers writing technique and approach. You can go through all the expert's materials and take a bit (or a lot) of what you need.
The structure of Masterclass means you don't have to put too much time into it, either, making it easier for you to learn. Each course in Masterclass consists of 22-28 bite-sized episodes that are only about ten minutes long. Instead of watching your 100th YouTube video, you can hop on over to Masterclass for a productive writing lesson, and it'll take about the same amount of time.
Since daily practice and instruction are both critical in your journey to become a great writer, you need to be able to fit in writing with your schedule. The short class format allows you to do this. You're much more likely to stick with your lessons, even if you have a super busy day.
Recommended Reading: How to improve your note taking skills!
Best Masterclass for Writers
Masterclass has a lot of classes for different types of writers. No matter your goals, you're sure to find one that helps you achieve them.  
N.K. Jemsin: Fantasy and Science Fiction Writing
After all the Hugo Awards she received from 2016 to 2018, N.K. Jemsin is probably one of the most qualified instructors to teach about fantasy and science fiction writing. Her book series, "The Broken Earth Trilogy," has sold more than two million copies worldwide.
She'll teach you everything from how to build a fantastical world from scratch to developing fun original characters to publishing your own book.
R.L. Stine Teaches Writing For Young Audiences
If you want to write powerful horror stories for younger audiences, sign up for R.L. Stine's course. With her 20+ years of experience in writing, you can expect nothing but the best from this famous American novelist and short story writer.
R.L. Stine's course aims to help writers create and develop elaborate plots for horror stories. Even if you're not looking to get into the (sometimes controversial) horror stories for children niche, you'll still benefit from the course. She teaches tips like overcoming writer's block, which every writer goes through at some point.
Shonda Rhimes: Writing for Television
Shonda Rhimes is the brain behind multi-awarded T.V. shows, like "Bridgerton" and "How to Get Away with Murder." Her course will teach you how to pitch your ideas, write pilot episodes, and write compelling characters.
This Masterclass provides six video lessons, several series bibles, pitch notes, and exclusive plot scripts. The course, along with the bonus material, will definitely kickstart your journey, so maybe you can start writing for television in no time.
Neil Gaiman Teaches The Art Of Storytelling
With over 25 years of experience crafting a nearly endless story lineup, Neil Gaiman is really the best person to teach writers about the art of storytelling. He created some of the world's greatest novels, like "American Gods," "Caroline," "Stardust," and "The Graveyard Book."
Today, Neil Gaiman shares his secrets with his Masterclass students. Enrolling in his course will give you access to exclusive learning materials, like video lessons and case studies.
With this course, you'll learn how to develop some brand-new characters, bring them to life, and use them in your original stories.
James Patterson created 19 New York Times bestsellers — yes, you read that right. 19. Some of James Patterson's best works are "Alex Cross," "NYPD Red," "Witch and Wizard," and "Women's Murder Club."
In this Masterclass, you'll learn secrets on how you can create your own bestsellers – from creating a plan on how and when you will write to making your audience excited for your amazing new book.
Recommended Reading: Udemy – Everything you need to know.
Who Are the Masterclass Writing Instructors?
This article's mentioned a lot of instructors so far, yes. But did you know that these aren't the only instructors on Masterclass? You'll be surprised to learn that there are tons more, including:
Aaron Sorkin (Screenwriting): Aaron Sorkin is an American screenwriter, playwright, television writer, and film director famous for writing famous lines like "You can't handle the truth!"
Billy Collins (Reading and Writing Poetry): Billy Collins is known for his witty and conversational poems, and he's considered one of the best poets in America.
David Baldacci (Mystery and Thriller Writing): David Baldacci is a bestselling American novelist known for creating "Absolute Power." A thriller genre novel that became a major motion picture in 1997.
David Mamet (Dramatic Writing): David Mamet received a Pulitzer Prize for his plays "Speed-the-Plow" (1988) and "Glengarry Glen Ross" (1984).
David Sedaris (Storytelling and Humor): David Sedaris is an American essayist and humorist best known for his social commentaries, which appeared in countless best-selling books.
Joyce Carol Oates (Art of the Short Story): Joyce Carol Oates is an American short-story writer noted for depicting violence and evil in modern society.
Judy Blume (Writing): Aside from creating children's books, Judy Blume is also known for creating juvenile fiction that showcases people and situations identifiable to the young audience.
Malcolm Gladwell (Writing): As the author of five New York Times bestsellers — "The Tipping Point," "Blink," "Outliers," "What the Dog Saw," and "David and Goliath" — Malcolm Gladwell has become popular because of his unique and quirky perspective on popular culture.
Margaret Atwood (Creative Writing): Margaret Atwood is a Canadian author known for "The Handmaid's Tale" and "The Testaments."
Recommended Reading: Find out the best ways to learn without a teacher!
How Much Does Masterclass Cost?
Before, Masterclass allowed you to pay a one-time fee and access a course for life. But this ended in 2020. Bummer. Thankfully, you can still access all of the courses and the extra content with a $180 per year subscription. 
This might sound like a lot, but if you consider the price on a month-to-month basis, it's only $15 per month. It's about the same as what you'd pay on a standard Netflix plan in a year or the cost of 60 cups of Starbucks coffee. Although we all know you're probably buying more than that.
Looking for some more information on Masterclass? Check out our answers to more frequently asked questions here.